Dishwasher Tablets

DIY Dishwasher tablets?  Whaaat???  Mind blown.  I have to admit, that this was the first 'proper' low tox DIY I did when I made, and I have to say, to this day, I still thank those DIY Dishwasher tablets as they led me on this wonderful journey!

I have since refined the recipe and am super happy with how well they work, and how easy (and inexpensive) they are to make.  Because of this, I often give my homemade Dishwasher Tablets as gifts.  It's the best way to convince people that they don't need to spend a fortune on commercial, store-bought products – once you try it, you won't go back!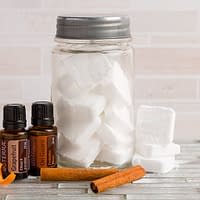 Dishwasher Tablets
These dishwasher tablets work just as well, if not better than the store bought ones. You may need to experiment with moulds and sizes required depending on your dishwasher.
Print
Pin
Rate
Equipment
Large bowl

Spoon or spatula

Spray bottle

Silicone mould or ice-cube tray
Ingredients
Essential oils
30

drops

citrus essential oil

see notes below for ideas
Instructions
Add citrus essential oil/s, then mix and use spoon or spatula to break up any clumps

Spray water into mixture, stirring as you add the water. Don't add the water too quickly or the washing soda and citric acid will fizz and react too much - slower is better

Stop adding the water once the mixture is the consistency of slightly damp sand.  The mixture should clump together when you squeeze it, but fall apart if you drop the clump into the bowl. If it's too wet, don't worry, you can add more washing soda to dry it out. If it's not wet enough, spritz it with a little more water.

Scoop the mixture into the silicone mould or ice-cube tray.  Use the back of a wooden spoon and your fingers to firmly press the mixture into the mould

Let them dry and harden overnight

When they're completely dry, pop them out of the mould and put them into an airtight container
Notes
You can test size of the mould will make a tablet that will fit in your dishwasher by making ice-cubes from it beforehand and checking the ice-cube fits in the dishwasher dispenser
Essential oils you could try. Use individually or try a combination:
Lemon
Lime
Grapefruit
On Guard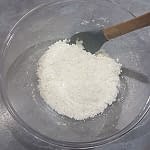 This Dishwasher Tablets recipe contains the following ingredients
Do you need Essential Oils?
You can join my team and immediately gain 25% off the retail price of doTERRA essential oils. You will also receive a whole lot of education and support from me, and The Essential Guide community.
If you would like more information or instructions on joining, you can visit this page, or please don't hesitate to get in touch. – Alison