This 500ml Amber PET Trigger Trigger Spray Bottle is perfect for your DIY products such as Surface Spray and Glass Cleaner. It is a safe choice to use in areas such as the kitchen and bathroom as they will not break like glass can.
You can use the 500ml Amber PET Trigger Spray Bottle for these recipes
All Purpose Surface Spray
Use this All Purpose Surface Spray to clean anywhere in your house, car, cubby or castle. It is perfect for the kitchen, bathroom and fort. It cuts through grease and can be tailored with your preferred essential oils.
Check out this DIY recipe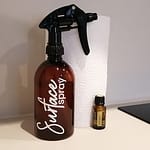 Glass Cleaner
This glass cleaner is perfect for all of your windows, mirrors and glass in your home (or car!). It cleans well and leaves a streak free finish.
Check out this DIY recipe
Do you need Essential Oils?
You can join my team and immediately gain 25% off the retail price of doTERRA essential oils. You will also receive a whole lot of education and support from me, and The Essential Guide community. If you would like more information or instructions on joining, you can visit this page, or please don't hesitate to get in touch. – Alison