Refined Almond Oil is one of the most popular nut oils used in the world and is a great 'all purpose' carrier oil.  You can use it as an emollient and to soften dry or irritated skin. Our Almond Oil is made by cold pressing the nuts/kernels of the Almond Tree. It is then refined to produce an oil that is light in colour, consistency and odour, making it ideal for cosmetic applications and formulations, and diluting your favourite essential oils. Rich in proteins and antioxidants, Refined Almond Oil also contains Vitamins A, B and E, Omega 3, Magnesium, Calcium and Oleic & Linoleic acid. It is widely used in massage oils, soaps, body butters & lotions, hand & skin creams and hair care products. Easily absorbed, almond oil is fantastic for soothing dry, chapped and irritated skin. You can use it to moisturise hands, nails and cuticles.  You can also improve your skin complexion and assist in reducing dark circles around your eyes. You can also use this versatile oil as a hair 'mask' to help nourish and strengthen hair. It has also been known to help treat hair loss!
You can use Almond Oil in this recipe
Soothing Salve
This versatile salve can be used for so many skin applications. Use to help a nappy rash, sooth a chesty cough, or as a carrier balm for sleep oils - the options are only limited by your imagination!
Check out this DIY recipe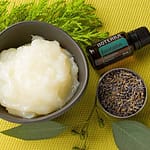 Do you need Essential Oils?
You can join my team and immediately gain 25% off the retail price of doTERRA essential oils. You will also receive a whole lot of education and support from me, and The Essential Guide community. If you would like more information or instructions on joining, you can visit this page, or please don't hesitate to get in touch. – Alison