The Dishwashing Liquid DIY Kit is perfect if you are new to low tox DIY and you want to see if home made dishwashing liquid really does work (spoiler alert – it does!). This Kit also makes the perfect gift, particularly if you are wanting to introduce others to low tox DIY. It contains everything you will need to easily make your own dishwashing liquid, including ingredients, a 500ml Amber PET Pump Bottle and printed instructions.
Of course, the only other thing you will need are your essential oils!  Don't have oils yet?  Join The Essential Guide community here or get in touch to chat further.
This kit contains
Printed instructions
You can use the Dishwashing Liquid DIY Kit to make the following recipe
Dishwashing Liquid
Castile soap is a staple of low-tox DIY and is amazingly effective at cleaning and cleansing. Add your choice of essential oil to this dishwashing liquid recipe, but citrus is usually best as it cuts through grease.  Lemon is simple and cheap, or try doTERRA's On Guard blend if you want the added reassurance of a protective blend.
Check out this DIY recipe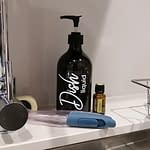 Do you need Essential Oils?
You can join my team and immediately gain 25% off the retail price of doTERRA essential oils. You will also receive a whole lot of education and support from me, and The Essential Guide community. If you would like more information or instructions on joining, you can visit this page, or please don't hesitate to get in touch. – Alison