Isopropyl Alcohol – 100% is a cleaner and sanitiser.  It is commonly used due to it's fast evaporation rate and disinfection properties. Isopropyl Alcohol is often referred to as Rubbing Alcohol when at 70%.
Please note: This is not considered a low tox ingredient, however I have chosen to sell this ingredient in low quantities as it is in high demand as a vital ingredient in making an effective Hand Sanitiser (which is far more low tox than commercial brands sold in shops).  
When you purchase Isopropyl Alcohol – 100% from The Essential Guide Shop, you will receive 70ml in a 100ml spray bottle.  This will allow you to make up your own sanitiser directly into the bottle. Or, you can simply pour the Isopropyl Alcohol into your preferred containers such as our 10ml or 20ml Mist Spray Bottles
You can use Isopropyl Alcohol in this recipe
Hand Cleanser Spray
This doTERRA On Guard hand cleanser spray is an easy and convenient way to clean your hands. Keep a bottle in your handbag/manbag and one in the car.  For the parents, it's also a great one to keep at the change table and in the nappy bag.
Check out this DIY recipe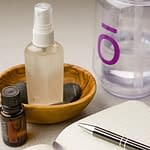 Do you need Essential Oils?
You can join my team and immediately gain 25% off the retail price of doTERRA essential oils. You will also receive a whole lot of education and support from me, and The Essential Guide community. If you would like more information or instructions on joining, you can visit this page, or please don't hesitate to get in touch. – Alison