Also known as an oxygen bleach, sodium percarbonate is an oxygen booster. When you add it to hot water, the dense oxygen is released into the water which creates a super powerful cleaner and cleanser.
The common bleach usually found in your supermarket is a chlorine bleach, whereas Sodium percarbonate is an oxygen bleach.  Oxygen bleaches are eco-friendly. Chlorine bleaches are dangerous – to both you and the environment, and you should avoid them all together.
You can use Sodium Percarbonate in this recipe
Dishwasher Tablets
These dishwasher tablets work just as well, if not better than the store bought ones. You may need to experiment with moulds and sizes required depending on your dishwasher.
Check out this DIY recipe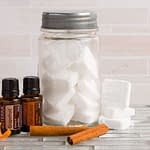 Do you need Essential Oils?
You can join my team and immediately gain 25% off the retail price of doTERRA essential oils. You will also receive a whole lot of education and support from me, and The Essential Guide community. If you would like more information or instructions on joining, you can visit this page, or please don't hesitate to get in touch. – Alison