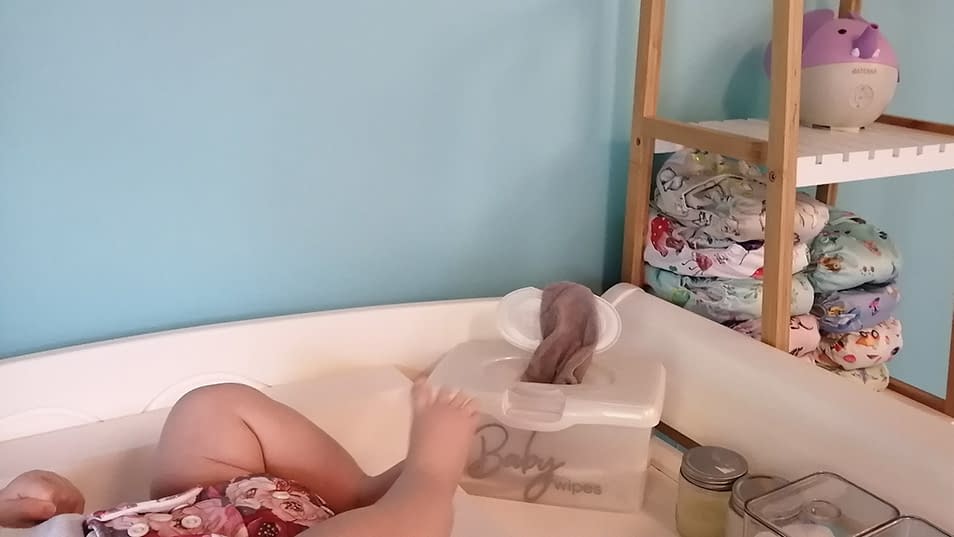 Reusable Baby Wipes

Yes, you can make your own Reusable Baby Wipes!  I was a bit dubious about this at first, but when I had my second baby and started using cloth nappies, it seemed a natural transition to start using cloth wipes too.  I'd been making my Disposable Baby Wipes when I had my daughter, so I was already into DIY baby wipes. Why not give reusable wipes a go?  So, I did, and haven't looked back since!

We want the best for our babies, so why would we use store-bought chemical-laden wipes against their precious sensitive skin?  I get it, the convenience of having the packet there, but seriously, these are so quick and easy to make.  Plus, you can still use your  wipes in the nappy bag, just chuck a few in a ziploc bag or container* before you head out.

Give it a go and it will become second nature. You will wonder why you didn't start doing it sooner!  Once my daughter was old enough, she used to love helping me make her wipes, and she helps me make her baby brothers now!

You may like to also check out my Disposable Baby Wipes recipe.  Personally, I make both – I keep the reusable ones at the change table and the disposable ones in the bedroom for the late night and early changes (our babe sleeps in a co-sleeper in our room).

*If you are trying to make more environmentally sound choices, and wish to support small Australian business, you may want to check out Laminated Cotton Shop.  I use their reusable food bags for heaps of things – including taking my DIY Baby Wipes on the go.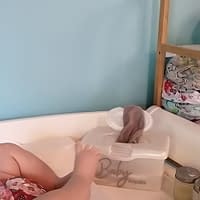 Reusable Baby Wipes
One of the simplest DIY recipes you can make, I'm sure you will wonder why you didn't make the switch sooner. You can whip these wipes up so easily, and the best part? They work better than the store bought wipes, and are so much cheaper.
Print
Pin
Rate
Equipment
Jug or bowl

Spoon or whisk for stirring
Ingredients
Essential Oils
12

drops

Lavender essential oil

12

drops

Tea Tree essential oil
Accessories
Instructions
Make Master Blend by adding Fractionated Coconut Oil, Castile Soap and essential oils to Pump Bottle

Shake bottle of Master Blend to combine Fractionated Coconut Oil and essential oils

Put ⅓ wipes in wipes container

Add 1½ tablespoons of master blend to 2 cups of boiled, then cooled water

Pour a third of the mixture over the wipes in your wipes container.

Add another third of your wipes into the container and pour another third of the mixture over the wipes.

Add the remaining wipes and mixture to the wipes container
Notes
Once you have made your master blend, all you will need to do to remake wipes when you run out is to follow the steps to add the blend to the water and pour over the wipes.  I do this in thirds so that the mixture disperses evenly through the wipes.
Note that you can also use distilled water in this recipe.  You can purchase this at the supermarket, but it does come in a plastic bottle - and of course, you have to pay for it.  I prefer to boil the kettle, make a cup of tea, then by the time my tea is finished the water is cool enough to make the wipes. If you use boiled water straight from the kettle, this can affect the properties of the essential oils which is why I recommend to let the water cool first.
You can use whatever size bottle you like to make your master blend. The recipe is simple - just half the bottle of Castile Soap and the other half Fractionated Coconut Oil.
You may also like to check out my Disposable Wipes Recipe here
This Baby Wipes recipe contains the following ingredients
USE THE FOLLOWING ACCESSORIES AND VINYL LABEL TO MAKE THIS DIY BABY WIPES RECIPE
Do you need Essential Oils?
You can join my team and immediately gain 25% off the retail price of doTERRA essential oils. You will also receive a whole lot of education and support from me, and The Essential Guide community.
If you would like more information or instructions on joining, you can visit this page.