Toilet Cleaning Fizzies

Toilet Cleaning Fizzies are a great way to keep your toilet fresh, clean and smelling sweet.  An easy way to maintain your toilet sparkle, just throw a Toilet Cleaning Fizzie in the bowl, then watch it do it's fizzy thing. Give the bowl a once over with the toilet brush, flush and admire the sparkle!
Toilet Cleaning Fizzies are quick and easy to make, and you can find all the ingredients at The Essential Guide Shop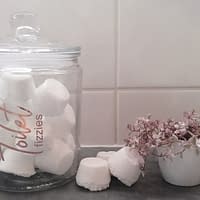 Toilet Cleaning Fizzies
Giving your toilet a quick clean and refresh can be so simple with these Toilet Cleaning Fizzies. Keep them in an airtight container next to the loo and drop one in whenever it needs a bit of a freshen up
Print
Pin
Rate
Equipment
Measuring cups or jug

Large bowl

Spoon or spatula

Silicone moulds or icecube trays
Ingredients
Essential Oils
15

drops

preferred essential oil

see notes below for suggestions
Instructions
Stir the bicarbonate of soda and citric acid together until combined

Slowly stir in the castile soap and essential oil. Stir until the mixture resembles wet sand

Pack the mixture into a mould and let dry at least four hours (I usually let mine sit overnight).

Once dry, remove the fizzies from the mould and store in an airtight container
To Use
To use, simply drop a fizzie into the toilet, wait until it stops bubbling (go put the kettle on and make a cuppa to give it a few minutes), then scrub away!
Notes
Depending on the himidity in the air and how much Castile Soap you use, the the mixture will likely expand above the mould.  It doesn't matter too much if this happens (unless you want really pretty, perfect looking fizzies) - they still work the same.
However, if it's a concern, firmly press back down. If it REALLY expands above, you can scrape some off the top and add to an empty mould.

Recommended essential oils:
doTERRA's Purify blend
Lemon
Lime
doTERRA's On Guard blend
Wild Orange
Peppermint
This Toilet Fizzies recipe contains the following ingredients
Do you need Essential Oils?
You can join my team and immediately gain 25% off the retail price of doTERRA essential oils. You will also receive a whole lot of education and support from me, and The Essential Guide community.
If you would like more information or instructions on joining, you can visit this page, or please don't hesitate to get in touch. – Alison
View a YouTube Video of how to make your own Toilet Cleaning Fizzies